Diesel Torque stands for quality products: the PedalBox was designed and manufactured fulfilling all the requirements for technical and electromagnetic parts. The remote control unit couples with the applicable product-specific guidelines..
The circuit board, as the data transmitter for the software, is finished so as to fulfill its function. The data connector is characterised by its light weight, robustness, and durable design which ensures extremely good contact under even the harshest conditions including vibrations and large temperature fluctuations.
Allround concept for the highest standards
The housing system has a reliable EMC cover. The PedalBox is approved in accordance with EC Directive 89/336 (electromagnetic compatibility) and has the CE marking.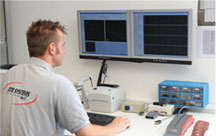 The most modern materials for the best performance
The cable harness is designed in such a way that assembly is quick and easy. Based on our experience, temperature-resistant OEM connectors have proven themselves as connecting elements. For safety reasons, they are subjected to elaborate tests in our own production hall before being used as connectors.
The Pedalbox housing is specially designed and developed by DTE. Glass fibre-reinforced PA66 has been used making it durable and heat resistance. This plastic has excellent electrical shielding properties and together with the integrated EMC cover offers very effective shielding against radio frequency interference allowing the pedalbox to operate reliably even under the toughest conditions.
Have fun with your PedalBox!

The benefits for you
Improved throttle response

for all vehicle types

(

naturally aspirated /

turbo

)

Turbo petrol and turbo diesel engines with automatic or manual transmission
No more acceleration weakness delays when the accelerator pedal is pressed
No more "turbo lag" - the gear unfolds its power constant without delay
More information: