The PedalBox: Testimonials
It is our more than 10 years of experience and constant further development that make our products so successful. Here is just a selection of testimonials from customers.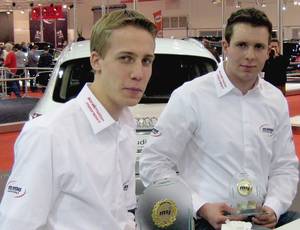 Our customers are impressed!
Even the younger racing professionals have already discovered the PedalBox.
Tobias Rother, who won the NRW Junior Slalom Championship in 2008, loves motor sport racing and is currently driving a Mini Cooper with the latest PedalBox.

His colleague Benjamin Kettler, who came fourth at the Slalom Championship, is also impressed by the tuning products from DTE Systems: "Driving with the PedalBox is a lot of fun – a real thrill!"



Satisfied customers worldwide! Are you one of them?



More testimonials:
"Car: 2008 Audi S3 Sportback @ 380bhp

I first met Tony at GTi international in 2011. I was drawn to his stand by the gorgeous TT-RS parked outside it. Having done every modification possible to my car bar big turbo I didn't think there would be anything else out there that would take the car further…. I was wrong.

After speaking to Tony for a brief period he offered to let me try Pedal Box down the drag strip. He installed it in less than 2 minutes and off we went.
I sat in the drivers seat and turned the ignition, the car idled as normal, nothing different there. The first I noticed something had changed was when I lightly touched the accelerator. It suddenly felt a lot more sensitive and keen, a greater sense of urgency was added. Time to put the car in gear and set off.

As soon as you start driving the car feels completely different, like the feeling when you get a remap. I couldn't believe it! The expression I used was "it feels like my car is on steroids". It just wants to go! It feels like you have a lot more power at your right foot. The grin factor is massive, I could not believe such a simple modification could bring so much more to your car.

Don't think for a second this modification makes your car difficult to manoeuvre at low speeds, there is no problem there at all. As soon as you want to accelerate though it feels so much more powerful, it brings new life into your car.

We purred down to the drag strip and launched the car into the horizon, this is where the Pedal Box's other feature comes into play. When it detects you are really flooring it it will hold the revs for you between changes to ensure the power is there when you engage the next gear. You can feel it doing this and it makes changes a joy.

If you are thinking about purchasing the Pedal Box, don't. Just get it. It was the easiest decision I have ever made and my credit card made an appearance in no time.
I am now looking forward to seeing Tony and the gang at this years GTi International and hope to try the version 3!"
Toby Cruse, England


"I installed the Pedal Box to my Audi S3 and the difference is amazing ! A great product and very fast service. Thanks !!"
Ville, Sweden


"My SRI 1.6T pedal box review:
I had alot of communication with Andy a few months back about these, i eventually purchased one. After the box arrived yesterday it was fitted with clear and straight forward instructions, i took the SRI out for a run with the box turned off to let the car warm up as i did not know what to expect.
the first mode i used was the sports plus mode (green light) and what a differance it made straight away you could tell the car was more sharper, more responsive. i thought the SRI was a smooth drive that used minimal effort when driving it steady. i was wrong you hardly have to touch the throttle on the vehicle now. while out in the car i went to overtake a slow moving car and a lorry down a long straight.
normally i would consider it twice and feel slightly uneasy at overtaking but the SRI responded amazingly sinking me into the seat and pulling past the two vehicles effortlessly, you just want to leave the car in this mode, i also used the eco mode (red light) when driving home this morning and that is also very good not as agressive as the sports plus mode but still allows you to use minimal throttle. all in all the Pedal box is a top buy easy to fit and brilliant to use."
Jamie, Online Review

"I have got the pedalbox, and installed it in under a minute! What a difference it makes to the Impreza Diesel. I think this may be the best modification I've done to the car! The car is just instantly accelerating when you press into the pedal but it's also not in any way dangerous or surprising, as "car park" throttle response is untouched.
Very pleased."
Dan


"The results are fantastic, although my car (Porsche 997 GT3 RS) is sold as a track biased car, that need not mean that it cannot be improved upon, I fitted the box (as easy as the astra) & tested all maps on the base setting to begin with, in truth, I personally felt little difference so put it up to +1 on each, now were getting somewhere!
Throttle response instantly improved , this also made the car feel like it's had a little boost in HP too, it's also helped with heel/toe downshifts too as less of a stab at the throttle pedal is required to rev match on the downshifts allowing for smoother driving.
+2 is more of the above but I would have to say it would be down to personal taste as to whether you choose this over +1 but it is slightly more aggressive.
+3 is too much for the road, I can only assume, having driven the astra on +3 ( it's still on) that this is because the car is a high N/A tune anyway & is already pretty responsive."
Paul, County Durham


"Hi all, the pedal box is absolutely amazing, on my 1.7cdti just got it fitted today and I'm amazed at the response.Highly recommended, I firstly tried it without my DTUK (tuning) box on and to be honest with you it felt like I did actually have the (tuning) box on.
When I put my (tuning) box on it was far better than I expected, now the case is just to have a play around and go back up on Monday to see what the best program and settings are to be set. To all users interested it is a highly recommended one from me."
Chris, Darlington


"Map 2+1 is the way forward for me, I have just tried going up the famous hills around Stanley and they were very easy! So easy now to keep the engine "on song" as there isn't any dropping of revs like I used to get.
My lass even noticed the difference and commented so it must be good! There is no going back once you have one of these fitted."
Andy, Stanley


"You may know how blunt I am about my mods so here is my input... • car feels powerful especially when shifting gears • overtaking is much improved • going up hills is easier • higher gearing is encouraged • 4th gear seems stronger now
It may not add BHP but I think that it could actually lower 0-60 times awesome! Quality product!!!"
Keith, Malta


"Got one of these last week, must admit I didn't expect a lot but thought I will give it a go . Well fitted it in about 2mins so that was a good start, Just had it on the setting it came with pulled out of the drive and put my foot down I was taken by surprise as the van picked up so quickly.
After a few miles I then set it to map 2+1, even better. First thought that it had replaced the sport button but the sport still comes in on top (if you get what I mean) I had a track day booked at Snetterton and this was ideal to really test this, what I found is that you don't lose boost on the gear change so on track it felt quicker though the gears but it's also still very drivable on the road.
I am sure if I didn't know this had been fitted and I got in to drive I would think it had more HP , not had chance to run it with the laptop connected but I would put money on the 0-60 times being better than before . So all I can say is this is a good bit of kit"
Will, Lincolnshire


"Had it on the car for a week now. Tried it on map 1 first, which made a slight difference. After a day I was bored, so turned it up to map 2, took her out and decided that the best thing to do was to put it up to map 4. Had it on map 4 for about 5 days and done about 250 miles in it since then, makes a noticeable difference - definitely worth the money!"
Iain, Northern Ireland


"The advice I received for my MB C200 CDI was first-rate and the ordering and delivery was as easy as ABC. Installation was easy thanks to the instructions provided. The overall package is just perfect. I'm more than pleased with the performance and consumption aspects too."
Achim, Hanover


"It took me just two minutes to fit the PedalBox. Even in the Standard setting, I was very surprised how well the PedalBox responds. After just a few kilometres, I switched to the second programme. Better still, I was able to test the PedalBox on the race track. Ideal test conditions. I found out that you don't lose pressure when changing gears. Absolutely brilliant! You really get the impression that you can change gears faster on the race track. Despite this, the PedalBox makes for a good ride on the road too. I think this is a really good system. Top!"
Martin, Brücktal


"I fitted the PedalBox into my Mini Cooper 1.6D – the installation took less than 10 minutes. The PedalBox transformed my car immediately! I drove for a few days using the Standard programme before switching to the Sport+ programme. I really cannot believe that this device does not boost power but instead merely improves acceleration. The car responds so much faster and is comfortable to drive. Thanks a lot for your help. This a fantastic product!"
Tony, Cologne


"I installed the box in a Ford Grand C-Max 2.0 TDCI Diesel with 140 hp, made in 2011. I must say, I'm totally impressed. You feel like you're sitting in a brand new car. The car is a lot more agile and responds as soon as you press the accelerator. It also accelerates more powerfully and more evenly without any delay. The vehicle can be better driven in the lower rpm range. 60 km/h in 5th gear is a synch now. Simply more comfortable to drive. This is how I wanted driving to be right from the start. And in terms of fuel consumption: driving in the same economical fashion, consumption dropped by 1 litre per 100 km in my case. Simply unbelievable. Why can't car makers produce their cars like this? Better driving performance and lower fuel consumption. I can only recommend the DTE PedalBox to others."
Anonymous


"I drove with the DTE PedalBox in the Ford Kuga and when I pressed the accelerator the car responded like a catapult. Afterwards, I bought a BMW X3 3.0d and therefore wanted to sell the supplementary control unit. DTE advised me to keep it, reprogramme it for free to BMW and merely buy a new adapter cable. The service from DTE was amazing; in particular, making an agreement like that with me, the customer, earns my respect. The BMW X3 3.0d travels 15 km/h faster now, but it is the spring in particular that has improved considerably, across a wide rpm range. The fuel consumption situation is even more astonishing. Compared with the 4-cylinder Ford Kuga, this 6-cylinder car actually consumes less fuel at higher speeds. With the PedalBox, DTE has created a fantastic product, with super service and all for a reasonable price. Thank you!"
Novak, Emmen, The Netherlands


"Hello everybody, I work in the area of motor sport – Formula 1, DTM, rallying, etc. – and am a self-confessed petrol head! The company car I drive is an A4 2,7 TDI Avant S-Line. The car has been worked on by lots of well-known tuning firms (ABT, Wetterauer) in the past (rubbish control unit, Bosch EDC 17). Then our development engineer recommended DTE Systems to me. So a rang them, got an appointment on the same day and went over straight away. Installation and induction took just 15 minutes, followed by a 20 minute test drive and hey presto, I have a new car! The car goes like the proverbial clappers! After 3,000 km of driving, I have determined that the car's diesel consumption is around 1.4 litres lower than before! It has fantastic puling power, runs tangibly more homogeneously and, even though DTE does not promise any increase in end speed, has a top speed that is around 14 km/h more than before (254 km/h according to the speedometer:-)). The service – both over the phone and in person – was fantastic, the driving performance excellent, more than was even promised and, comparatively speaking, the price is completely justified. Wetterauer could do worse than read the data. They don't understand (they drove the car themselves and were flabbergasted:-)). For now, I can only report on the present time (14 days); the long-term test is still pending (I drive around 60,000 km per year) but I am hopeful. The box gives the car 226 hp / 460 Nm compared with the original 190 hp /400 Nm – a noticeable difference. And, acceleration from 60 to 180 km/h is five seconds faster (measured using a stopwatch)!!!"
P.Sch., Werne


"Hello, I must take this opportunity to praise the great service from DTE; it's simply amazing.. Other manufacturers could do worse than take their lead from the PedalBox.."
Klaus H., Dornstadt


"Hello, I visited you yesterday on account of my B180 CDI. I'm really impressed with its performance; there's no comparison with earlier. The engine revs up smoothly in all gears now, making driving a real pleasure ;o) Fuel consumption is higher but I think this can be attributed to the fact that the car finally has a reasonable acceleration and end speed now ,o)"
Martin, Schwerte


"The VW GT TDI 2.0 was already pretty good...., but now it's like a catapult, fantastic acceleration. A full tank now takes me 920 km on the autobahn, driving normally, or 850-870 km at full throttle! The most it could achieve before was always 750 km. I'm still driving the PPD – fantastic! Thank you!"
Anonymous


"The advice I received for my MB C200 CDI was first-rate and the ordering and delivery was as easy as ABC. Installation was easy too thanks to the instructions provided. The overall package is just perfect. I'm more than pleased with the performance and consumption aspects too. Comes highly recommended as far as I'm concerned. I'm already looking forward to the long-term test!"
Anonymous


"I had the PedalBox fitted in my Opel Vectra 2.2 after 100,400 km and it just keeps going and going. The car currently has almost 260,000 km on the clock and I have been thoroughly impressed. Performance is good and fuel consumption has gone down by almost 0.5 litres. I can only recommend the PedalBox to others ;o)..."
peffi , MD


"I had the boys at DTE programme my A4 2.0 TFSI. Let me say first of all that I AM IMPRESSED. It was only after a rather unfortunate incident that the top-class service at DTE became apparent to me. As is almost the norm with this car model, an ignition coil came undone. At first, I thought it might have something to do with the programming so I rang DTE and, to my amazement, they immediately sent out somebody (a distance of 70 km). The employee tried to locate the error with the equipment he had brought with him but when this didn't work, he took the engine control unit and drove back without any hesitation. The next day, they refitted the control unit and determined together that the error must be somewhere else. By now, DTE had clocked up a total of 280 km trying to fix my problem. After a long search in an Audi garage (a specialised garage), they eventually detected a faulty ignition coil and fuse. Now the engine was starting well again so off I went to DTE and had the control unit reprogrammed. Everything was done so obligingly by DTE. If I ever need tuning work done again, I'm going straight to DTE. The car's performance has perceptibly increased. Top marks for service."
Marko, Wuppertal


"With 6,800 km on the clock of my BMW 318d, I decided to have chip tuning carried out by DTE, without altering the original BMW control unit. To cut a long story short: the car now has a lot more power and consumes one litre less fuel for every 100 km driven. With my mileage of 70,000 km per year, that amounts to a saving of about EUR 900. Brilliant."
Roland, Duisburg


"Hello dear tuning friends! I found DTE after a long search on the internet. Today, they worked on my Golf V GT Sport 2.0 TDI (170 hp). After quick and problem-free installation of the chip, I now have a powerful 205 hp and 400 Nm car under my backside...:-). I must say that I am more than just impressed and that I'm delighted I opted for DTE... WOW... now all I'm missing is a parking disc to show off to people as they drive by! Keep up the good work, DTE"
Marco R., Frankfurt


"Good increase in power and good power delivery. Expert, friendly service too. My Passat 3C TDI/DPF is a lot more fun to drive now!"
M.Rosenthal, Ruhr Region


"I had the PedalBox fitted in my 10 years-old minivan (a VW bus from 1999) and was very pleased with the results. I usually drive with a full bus and need torque from underneath. I have been driving with the PedalBox now for one year and am very impressed. I had it registered too – no hassle whatsoever. The PedalBox also functions well with the retrofitted diesel particulate filter. The team at DTE know what they're doing and are very friendly. I recommend them without hesitation. And if you decide you no longer want the power booster, all you have to do is unplug it. That was another reason why I chose DTE."
Klaus, Biberach


"Hi, I'm so delighted with the chip; it's simply amazing :) Quality --> TOP MARKS!! Performance --> FANTASTIC!!! Service --> I don't think any company can match DTE in terms of service. Very obliging, helpful and friendly. Keep up the good work. If I should ever change my car, you'll be hearing from me again! I'll gladly recommend DTE to others. Best wishes"
Markus Zehe, KG


"The chip tuning is simply amazing! An increase of 25 hp and 40 Nm! What they say about the fuel consumption is true – in my case, it's down by 1.4 litres. Absolutely excellent!"
Uwe, Mühlhausen


"I have been using chip tuning from DTE in a 2.0 TDI with pump/nozzle technology for four years now – first in a Seat Leon, now in a VW EOS. I'm delighted with the results day after day! My passengers never fail to be impressed either – fantastic torque from underneath and, thanks to the DSG, excellent acceleration too!!!"
Elpei, Hagen/Westphalia


"I brought my BMW 330d to DTE in Recklinghausen. A really nice young man fitted the component and accompanied me on the test drive. Then we tried out another characteristic curve and took another test drive. The car has a sort of punch now that I just can't describe. Like a kick from a horse is probably the best way to put it! I can only recommend it to other drivers. Greetings from Windeck-Sieg. Ralf Groß-Magro-Bautenschutt."
Ralf Groß, 51570 WINDECK


"Hello, I just fitted the PedalBox into my Rav4 (177 hp). It's simply fantastic. Power from underneath and less fuel consumption (0.5 litres – 1 litre per 100 km). I highly recommend the control unit."
Ralf, Großhansdorf


"I drive a 220 CDI W204 (170 hp) and installed the tuning box two weeks ago. Nothing but excellent performance ever since. Driving in 5th gear, 1,800 rpm at full throttle, and the speedometer needle went up to 180 km/h in no time at all. For normal driving, only 6.2 litres of fuel per 100 km, compared to 7.0 litres before. The engine responds much better to the accelerator now. I can only recommend the PedalBox; it's worth every cent. Greetings from Bavaria."
Schmidt Helmut, Neustadt Donau Bayern


"I fitted the tuning box and I'm impressed with the results. My Megane RS DCi came with 173 hp as standard but now, according to my measurements, has 208 hp at 411 Nm and takes off like a rocket. The accelerator only has to be barely touched while consumption on city/country roads varies from 5.8 to 6.8 litres on average, depending on driving style. On the autobahn up to an average of 8.0 litres at most with a top speed of 240 km/h according to the speedometer. Endless acceleration and all that with a TÜV certificate – FANTASTIC. Thanks again for the quick service and greetings from a satisfied customer in SHS."
Roland Jacob, Schloß Holte-Stukenbrock


"GOLF VI 2.0 TDI (140 hp) All credit to DTE Systems!!! I installed the device around one week ago and I'm really impressed with the new engine power. You really feel the torque in the clearly improved spring in the upper speed range. The value for money you get with the PedalBox cannot be beaten in my opinion. What really crowns my experience with the PedalBox is the fact that my car's fuel consumption has decreased not by a mere half litre but by a full litre, from 6.0 to 5.0 litres (not bad for a diesel engine). Unbelievable! Keep up the good work..."
Michael Bisle, Tussenhausen


"Hi, I can only recommend DTE. Everything about their product is brilliant. It's easy to install and gives amazing performance enhancement. I had my BMW X3 3.0D tested: according to the manufacturer, it originally had 218 hp, it now has 257 hp."
Christian Weiss, Reutlingen


"BMW 330d (204 hp) I fitted the PedalBox too, which was very simple. The chip really does boost performance and makes driving a lot of fun. However, the car consumes almost the same amount of fuel as before. There is no increase in black smoke as with some of DTE's competitors. But be careful: do not set the box too high (there are several options available), set it only to the recommended 1st level; otherwise the engine will give trouble!"
Westi, Karlsruhe


"I installed the box around six weeks ago in a Golf 4 TDI Automatic of 110 hp (engine code AHF). An increase in power can be felt in the lower and medium rpm ranges. Best of all though is that, when accelerating normally or rapidly, the automatic transmission no longer changes down a gear, making for considerably more pleasant everyday handling. (Amongst other factors, this is because the automatic uses the accelerator pedal position for changing down the gears and, as a result of the increased power, less acceleration is required.) My fuel consumption has decreased by around 5%."
B. Gaull, Mainburg


"I had the DTE box installed in my MB 320 CDI ( W204 ) and am very pleased with the outcome! The driving dynamics and acceleration values have not only improved significantly; they are also MUCH MORE harmonious. It's a perfect fit for the 7G Automatic. Now, for the first time, I'm really enjoying my car. The service on site at DTE was very professional. Thanks a lot and keep up the good work!"
Anonymous


"By now. I've driven around 50,000 km with the system in my 2.8 JTD Fiat (4.5 T campervan). I only have good things to say about it: the engine is very agile and torquey now, something which I really notice when driving in the mountains. I can also race off once the traffic lights go green, which always catches the attention of the other drivers! Fuel consumption meanwhile has dropped by around 1 litre. All in all: SUPERB!!! "
Anonymous


"Dear DTE team. I received the module three days ago. Fitting it was as easy as pie and the effects are just fantastic. Now I can decide whether I want to drive nice and comfortably (1st, 3rd and 6th gear) or if I want to have some fun! The phone call from DTE (of your own volition) asking if I was satisfied with the company's product proves and underscores what a top-class service you offer. I can only recommend you to others!!"
Werner Tanger, Lippstadt


"I just wanted to thank you for the excellent service. Everything worked brilliantly and I'm very pleased. Whenever I trade in my car for another one, you can be sure I'll be calling to DTE again. The engine is running smoothly and I can really feel the extra power the car has. Thanks a lot."
Ben Kayser, Luxembourg


"I'm impressed with the tuning. Driving my car is fun again! And that's not even counting the service, which is given top priority here. Many thanks to you and your team at DTE."
Ingo Barth, Bedburg


More information: