More programmes, more flexibility, more driving fun.
With the new PedalBox V3.0, DTE Systems has once again successfully updated the PedalBox to include the newest technologies, thereby allowing the company to realise a multitude of customer wishes. The PedalBox V3.0 is now even smaller, more manageable, more effective and even more flexible in its programming.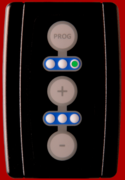 Above and beyond the standard...
In addition to the existing three programs, "Sport", "Sport Plus" and "Eco", there is now also the ability to fine tune each program, through seven different levels via the "+" and "-" function which offers a customer specific tailor made solution.
It's all about the driver...
In order to give the driver even greater feedback, the ergonomics of the PedalBox have also been improved. Instead of the uni-coloured indicator lights that were previously used, there are now multi-colouredlights showing the current states of the selected program on the Pedalbox. 
As individual as you...
What's more, customers can now make use of the services from Diesel Torque IN ADDITION TO THE STANDARD PROGRAMS, the PedalBox V3.0 now allows CUSTOMISED PROGRAMMING too. Together with the experts at Diesel Torque, you can now have performance programs tailored precisely to your needs. This means that the throttle response is adapted with precision and you can get your own customised PedalBox.